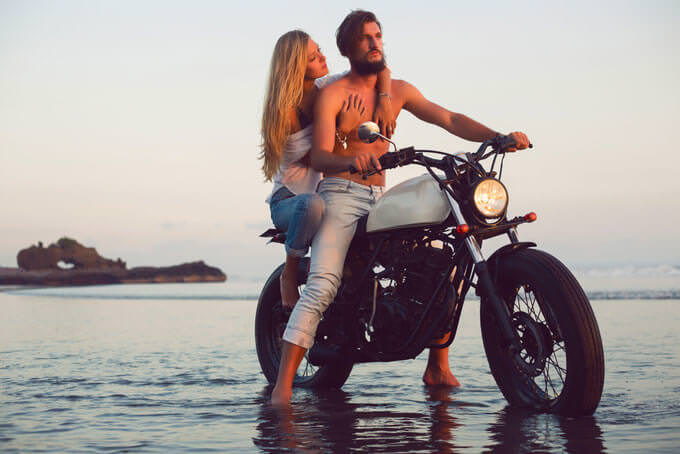 Biker dating is not like your regular dating. Bikers are not like regular people – they are ten times more awesome, funny, cool, and interesting than other folks! Naturally, biker dates should be as fun and interesting as the bikers themselves, but be careful not to get carried away too much and too soon. Bikers are known for getting occasionally wild and you definitely don't want your date to think you're crazy or anything, especially if that's your first or second date.
Trust
Your Instincts
Assuming you met your date through one of the amazing biker online dating sites, you are probably wondering when would be the right time to ask them out. This brings us to your rule number one – trust your instincts. There is no general rule that says how direct or straightforward you have to be when it comes to biker dating. Simply trust your gut. If your gut is telling you this particular person would prefer to take things slowly, then don't push too hard for a date. Give your online crush some space and time and he or she will ask you out in no time. On the other hand, if you don't feel like waiting and if you think your biker love interest feels the same, then by all means, go for it!
Be
Nice
Just because we're bikers, it doesn't mean we have to behave like animals. Bikers have something of a bad rep when it comes to behavior and etiquette, but we all know that reputation is really unfair. Most bikers are folks like everyone else; nice, decent people with proper manners. So, let's act like it, especially on a date. Be nice and polite to your date, whether it's a guy or a girl. Be punctual – running late is a major faux pas! Offer to split the bill – we're not in the 1950s anymore. Turn your cell phone off or put it on silent and don't check your social media profiles during your date. Don't pick your nose or your teeth, don't burp and cover your mouth when you sneeze or cough, especially if you're having dinner. You know, the basic stuff.
Be a Good Listener
If there is a magic trick that can make any date a successful one, then it'd have to be good communication skills. Everyone loves a good listener. Pay attention, participate in the story your date is telling, ask some questions to show you're interested in the story, but don't be too nosy. If your date is a bit timid and introvert, ask them a little bit about themselves, their background, hopes, aspirations, what they like to do for fun and things like that.
Don't
Brag
Bikers sometimes tend to brag about things, especially their rides. If you met your date through a biker dating website, chances are that he or she is a biker as well and has his or her own ride. Don't let your date turn into a childish competition. Plus, nobody likes a bragger. Talking about your achievements, possessions, and your status is a sure way to ruin a perfectly good date. Consider this a major no-no.
Don't
Be Pushy
After the date ends, take cues from your girl or guy as to what is going to happen next. If both of you came on your rides, chances are you're going to go separate ways after the date. If you don't want the evening to end and you wish to take things to the next level, please don't be pushy. You may throw a subtle suggestion out there and see how your date will react. If they ignore it, then consider it a "no" and go home.
It's Not All About Bikes
We know, it sounds ridiculous but deep down, you know it's true – there is more to life than just bikes. Admit this important fact of life and be sure to remember it on your date. If your date is also a biker, he or she probably knows all there is about motorcycles, cool rides, and gatherings. Of course, this is going to be the main subject of your first couple of dates, considering it's your common interest and the thing that brought you together, but don't overdo it. Your date probably wants to talk about other stuff like music, movies, television, sports, politics, and life in general.