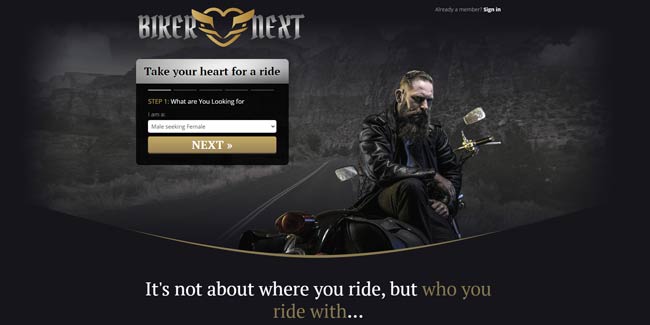 It sounds so odd that one single picture can help you get in contact with so many people. You might be a handsome, appealing, and charming person but if your profile picture is not good, none of it will matter. This is why people often spend days picking the right one, usually guided by what they think will be the perfect one. And maybe they know what they're doing but why not play it safe and take some advice from us, Biker Dating Expert. We will help you pick the perfect profile picture for a biker dating site. The first thing you should do has nothing to do with the picture and all to do with the site. If you haven't figured this out yet, you should stay away from mainstream dating platforms. They're simply no good for Biker dating compared to sites specifically designed and created for this purpose.
If you're wondering what some of those sites are, just take a look at our Best Biker Dating Sites list. Almost all of the sites are free to join including the biggest one Biker Next. With that out of the way, it's time to really get started on the process. Answers to these two questions will help you better understand what kind of picture you should have. What do you want from this experience and what kind of image do you want to project to the world? If you're looking for something more serious, maybe the profile picture should reflect that and vice versa. These are not strict guidelines but just something to keep in the back of your mind during the selection process. 
The most important element of most important element of your profile on a Biker dating site is your smile. You don't have to have a big smile or a small one, it's just important that you have some kind of a smile. It can be naughty or inquisitive and don't be afraid to practice in front of the mirror. You will not only see how other see you but also learn something new about yourself. Maybe you will conquer some inner demons that have been plaguing you since childhood. You simply cannot know this if you don't try it out. You should not use selfies as they distort the perspective and are of inferior quality. The main camera on your phone is much more powerful than the front one.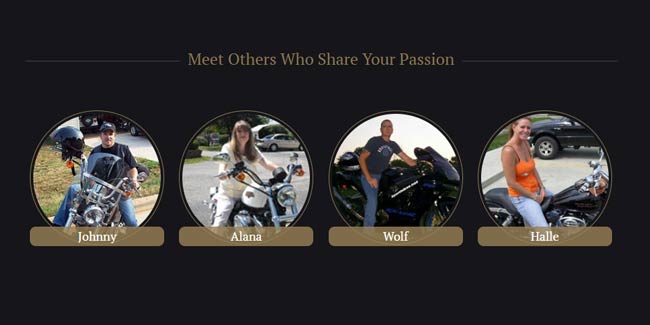 However, you should not use flash photography as flash makes the picture look fake and it messes up the colors. Take pictures in natural lighting. It doesn't matter where, it could be outside or somewhere in your house. Maybe you just discovered this cool spot during your last ride and want to use it as background. And we always have somewhere to put down our phones on and set the timers, unlike other people. Although then you can't showcase just how cool your machine is so there's that. But we digress, it's time for more tips! Avoid using photos with other people, especially if they're members of the opposite sex. People looking at your profile want to know more about you not them!
It goes without saying that you shouldn't use filters or photoshop. The perfect profile picture for a biker dating site should feel natural and cool. And while it might take a while for you to find it, it will definitely be worth the effort. Finally, use a recent photo to avoid any confusion. The last thing you would want is to meet someone who doesn't look like his or her profile picture. Keep a positive attitude and good things will happen.