Bikers Nearby Review
-
UPDATED Feb. 2019
While it might not be the biggest and best site for meeting bikers in your area, Bikers Nearby is definitely a dating site that is on the rise – one that you should definitely keep on your radar. If you are thinking about joining the site, this Bikers Nearby review will definitely help you make up your mind.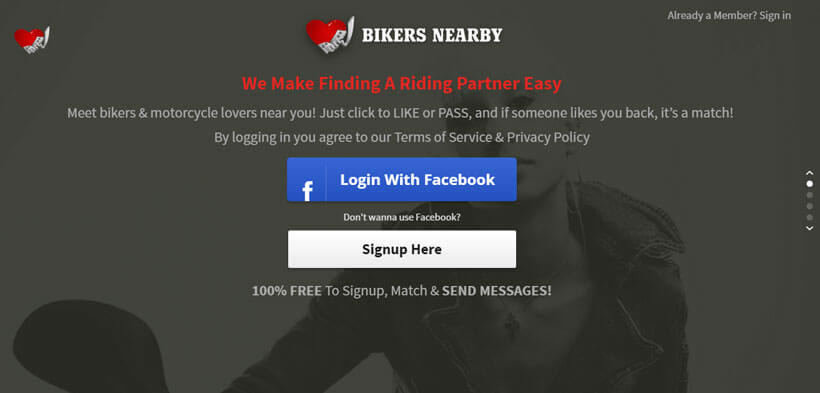 First Impression
The immediate impression that you get when you enter the dating site is that it is pretty simple to use. If you have used popular dating apps like Tinder, then you already know what this is all about. You look at pictures of potential matches and you decide whether you are interested in them or not. While it's pretty cool to check out Bikers Nearby from your browser, the mobile apps are way better. If you want the full experience, definitely go that route.
Design and Functionality
The design of Bikers Nearby is basic, but it gets the job done. When it comes to biker dating sites, the simpler the better. And this one is very simple. As we've said, much like Tinder in both design and functionality. It's incredibly easy to change your profile around and add new pictures to your profile.
It's also very easy to navigate. If you see a biker that looks appealing to you, you can click on their picture to find out more about them. What happens when you click on the picture is that you usually get a few more pictures to check out. This depends on how many pictures that person has uploaded. You will get to read about what that biker had to say about him or herself as well.
Meet Single Bikers In Your Area Today
Features
One of the cooler features is the "Go Private" feature. When you are using this, it means that only the members that you have personally shown interest towards will be able to see you. So, if you want some privacy and don't want every biker on the network to see your picture and profile, you can use this feature.
Another great thing about the Bikers Nearby site is that your preferences are very easy to set. You can set how close or far you want your bikers to be to you in both miles and kilometers – perhaps you like your dates to be local, or you have nothing against long distance relationships. You can also decide the gender you are interested in and determine the age group of interest as well.
Members
One of the reasons why Bikers Nearby is an interesting biker dating site to look into right now is because it's not really all too popular. There are plenty of people on it, don't get us wrong, but it still has a lot of room to grow. However, the people who are using Bikers Nearby seem to be very active and excited about it, which is what we liked the most when doing our research for this Bikers Nearby review.
The site is really accurate when it comes to showing you who is from your area and the pictures are very clear. And even though there aren't too many bikers on, there are still plenty to choose from. We've also noticed that there really is a lot of diversity in the types of people who are using the website, no matter what part of the country you are in.
Another cool thing is that there seems to be an equal number of people using it at all times of the day. So whether it's day or not, you should be able to find someone to message, no problem. Once again, it's a great idea to download the Android or iOS mobile app right away and keep your notifications turned on so that you make sure that you aren't missing out on some great potential love interests.
And just by looking at the profile pictures, you can tell that most of these people are real bikers. Naturally, a lot of them have pictures with their motorcycles, so you can even check out what they ride, which we know is very important to bikers who are looking to date people with the same interests.
Closing word
Overall, it's a pretty decent biker dating site with great potential. It's very easy to set up and use, the feature set is great, there's plenty of great people using it and the experience was an overall positive one. Once again, Bikers Nearby really shines brightest if you are using the mobile application instead of logging in from your computer.